We are the Best Doula Training!
So I am often asked, "What makes BAI better than……."
This is a question I don't answer.
I will not tell you what is wrong with another training, but I can tell you what makes us WONDERFUL.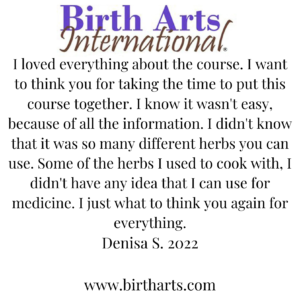 1. Support, we have it for you.
Will the Director of another organization offer you support when you need it? After a long birth, on a Sunday, because you need assistance and support? Ours will. She will listen, call you back, offer help, and offer education and advice, sometimes on the fly. Besides, being the best doula training is important to her, not just lip service.
2. We believe in you.
We believe in you and will support you in running the business you want, and we want you to be successful.
3. Work it!
Our manual/workbook we have the best program manual, over 400 pages. That's just the manual/workbook. In addition, we have lectures, resources, expert lectures, and additional support materials in our online classroom.
4. Earn it!
You will do more work, but trust me, even when you are like, "Say What!?!?!" it will make sense and all come together for you and enhance your education, practice, and professional career. Our doulas make excellent incomes also, and earning a sustainable income is essential and vital to being the best doula training.
5. More Births!
You will have to attend a few more births, read more, work harder, and be expected to trust yourself from the start because we have got your back. Moreover, we don't pick and choose the births that count. Our belief is that every client's birth deserves to count, and we count them all.
When you know you have a stellar support team from the start, you do better. Moreover, you work better, trust yourself sooner, and work proficiently and professionally.
6. Training
We offer training in different formats because we understand students have other lives and requirements for education. So, we do online and in-person workshops. Our programs have supportive resources for students of all abilities. In addition, we some people need extra time and extra support, and we give it. Hospitals, birth centers, and other professions know that when a doula is trained through Birth Arts International, they are trained to be the best.
7. Have a question?
Yours will get answered by the Program Director. We have people who work for us, IT staff, and support staff, but when it comes down to student support, we want you to have the security of one-on-one support.
8. The best doula training.
Our program is more than comprehensive; it is excellent. Our program has so much material and supportive extras that we want our students to excel. Yeah, you will work more, read more, write more, attend more births, ask more of yourself, learn how to support your birth community, and so much more. In addition, our students learn about community services, labor support, breastfeeding support, pregnancy support, care, and so much more. You will work harder for BAI, which in turn means you worked harder for yourself.
9. Right Path
Our students do activities to set them on the right path to birth work, not just how to be a doula, but how to be an effective doula; remember, I said over 400 pages of just our manual. Having activities for students to become better doulas, will assist them in excelling. You won't find us being a certificate mill,  we don't just push people through the program to certify more doulas; we want our students to be practitioners who work for families' overall needs. Each activity is personally graded to ensure we are positioning our students for success. Stand proud you are a Birth Arts International student, you stand out from the crowd.
10. Our trainers are the BEST.
Our organization doesn't take just anyone on as a trainer. We have a rigorous selection process because we want trainers who will be the best for our students.
We are the best because we train the best. Taking the time to train and support our students to be the best, is our goal. Having appreciation for our students and try to ensure we offer them extras and bonuses throughout their educational process to enhance their education and professional services, for instance, makes us the best.
When choosing a doula education certification, ask questions.
Ask what makes the organization special. Check out what our students have to say.
Guess what? We also offer our students additional bonuses throughout the year and have an excellent student support group.
Subscribe
Join Our Newsletter
Join the email list for updates, coupons and announcements.